Michael Hannan Prints • P O Box 269 • Tellico Plains, TN. 37385
Telephone • Home Studio 423-253-2202 • Mobile Studio 423-253-4070 • Toll Free 1-877-773-3358
Michael Hannan has been a print maker for over 40 years. From 1970 until 1986 he designed, produced and sold 50,000 silk screen prints or serigraphs in over 100 signed limited editions. The newest way to showcase his talent is doing what he likes to call Digital Paintings. These are ORIGINAL, signed and numbered, limited edition prints. Each print begins when his imagination is taken by an interesting "glimpse of life" and a photo is made. Out of many photographs, one will become a digital painting. The photo is scanned ("digitized") producing an image he can work with on his computer to modify and enhance. The final stage of the print production is the actual printing on a large format inkjet computer printer. Only heavy weight, high quality, acid free, rag content stock is used for these prints, insuring the stability of the colors and quality. The print is finally signed and numbered. The end effect is the look of a fine watercolor painting. From the conception of the print to the end stage, Michael uses over 40 years of experience and talent in the production of every print.
~~March 3, 2012~~
We are proud to announce that we've added a new section to our online gallery, Antique Cars. Take some time looking because these classic beauties will bring back many memories of past vacations, first dates, getting married, proms, graduations and much more.
Original, numbered prints will be mailed promptly. Pay Pal is used and prints may be ordered online safely from this site.
Do not hesitate to send us a message via email or toll free number if you have any questions concerning these original prints.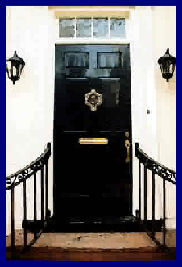 (Click the door to enter)
I hope you enjoy your visit through my gallery of digital paintings. New prints will be added regularly, so please visit again.  Michael Hannan

All design and contents copy written property of Hannan Print Gallery.
Site update - December 15, 2007